You are currently browsing the category archive for the 'Don' category.
So Pete and I went to see Indiana Jones and the Kingdom of the Crystal Skull a few hours ago at Mega Movies in East Brunswick. Upon entering the lobby I had the great joy of tapping my friend on the shoulder and being able to point his gaze upwardtowards a beautiful yet gruesome site indeed! We looked up to see a MASSIVE wall-covering banner of Heath Ledger as the Joker from the upcoming film The Dark Knight. It  was such a site to be seen that Pete needed to inquire as to what becomes of such things at a movie theater lobby when a film has run its course. The ticket goon told us that when banners or posters of this grand size are used to promote movies, they are collected at some point by the studio that produced it.
Unreal.
You mean to tell me that Warner Bros. sends a representative to East Brunswick Square Mall to collect banners? The same mall where Pete once engaged in a footrace with a 12 year old and put 20 bucks on himself to win, only to crush the child and not allow the lad to pay him the money he owed as a life-lesson? The mall where a younger more foolish Don Hohner had his first date with a certain girl who will be marrying her high school guidance counsellor in about a month?
I find it all too menacing to think that a Warner-stooge is marauding around the vicinity of Ruby Tuesday, stopping off at the place we all rented our prom tuxes from, only to cap off his trip by collecting awesome banners and taking them home to that water tower where Yacko, Wacko, and Dot live, to incinerate them.
Clearly Pete and I would be willing to give these amazing banners and posters a good home. Sure it's not a smoke free environment but hey, at least it would kill some time trying to figure out how to hang a 12 foot high banner in our bedrooms.
By the way, the 4th Indy was great. Don't let mediocre reviews taint your dreams of another Indy adventure. If you liked the original trilogy, you'll like this one too. But don't go looking for Short Round to make a cameo 'cause he ain't never gonna be there… I know, I was pretty depressed too.
Read this… Let it sink in. And then think to yourself, "I should send donations to 41 Miles so that the writing staff can go to this event and just have a great time."
Wednesday, July 16, 2008
IMAX Theatre | 600 E. Grand Avenue
You are cordially invited to a once-in-a-lifetime Gala evening
honoring filmmaker Christopher Nolan!
Cinema/Chicago, the 44th Chicago International Film Festival and Warner Bros. Pictures proudly present the first Chicago showing of THE DARK KNIGHT, the follow-up to the action hit Batman Begins. THE DARK KNIGHT reunites filmmaker Christopher Nolan and star Christian Bale, who reprises the role of Batman/Bruce Wayne in his continuing war on crime. The City of Chicago is prominently showcased in the film, with shots of the old Chicago Post Office, the State of Illinois Center, the IBM Building, Upper and Lower Wacker Drive, and LaSalle Street, among other locations.
The evening will include a tribute to filmmaker Christopher Nolan followed by a screening of THE DARK KNIGHT in IMAX®, which features six sequences shot with IMAX® cameras. "Nolan's work has captivated both critics and audiences alike. Memento remains one of the great directorial and writing achievements in cinema. He is a modern writer/director who approaches all aspects of his work with a style and sophistication seen only amongst the most elite tier of filmmakers," remarks Festival Founder and Artistic Director Michael Kutza.
A dinner reception will follow the tribute and screening in the stunning Crystal Gardens at Navy Pier, lit up by a spectacular fireworks display. The Gala will benefit Cinema/Chicago, its year-round educational programs, and the 44th Chicago International Film Festival.
Warner Bros. Pictures presents, in association with Legendary Pictures, a Syncopy Production, a Christopher Nolan film, THE DARK KNIGHT. Nolan directed the film from a screenplay written by Jonathan Nolan and Christopher Nolan, story by Christopher Nolan and David S. Goyer. Charles Roven, Emma Thomas and Christopher Nolan are the producers, with Benjamin Melniker, Michael E.Uslan, Kevin De La Noy and Thomas Tull serving as executive producers. THE DARK KNIGHT is based upon characters appearing in comic books published by DC Comics. Batman was created by Bob Kane.
Evening Program:
5:30PM Red Carpet Arrivals
6:30PM Tribute and Award Presentation to filmmaker Christopher Nolan
7:00PM Gala screening of The Dark Knight
9:30PM – 11:30PM Dinner Reception at The Crystal Gardens
TICKET PRICE:
Advance ticket price: $150/ticket if purchased by June 1
After June 1: $175/ticket
TICKETS ON SALE AT 9:00AM ON FRIDAY, MAY 16! LIMIT 4 PER PERSON.
PRESALE tickets available to Cinema/Chicago members May 12-15.
To purchase tickets, please call 312-683-0121 x154, or click here.
Must attend Gala in Chicago. Must see The Dark Knight before everyone else!
It came online yesterday at around noonish and even though I had already seen a bootleg version of it on other sites, the official release has blown me away! The Joker is looking more and more like the best on-screen villain ever, and there are even some very subtle surprises to be found here in this new trailer.
Surprise #1: In the trailer right after Alfred makes a joke, Batman smashes into a van from above. When looking very closely, the occupant in the driver's seat is noneother than The Scarecrow, a villain from Batman Begins. This confirms the reports that the character would make an appearance in the sequel.
Surprise #2: Harvey Dent can be seen holding a gun next to his head in a car. The left side of his face is hidden pretty well but scars can be seen on his face as well as scuffed up clothing on that side of his body. This is our first look at Two Face ladies and gentlemen!
Surprise #3: The Joker clearly throws Rachel Dawes off a building. If she goes splat on the ground or if the Dark Knight himself swoops in to catch her is still a mystery.
All in all, this is a great trailer with awesome images and even better dialogue. This movie will be amazing when it comes out July 18th! No doubt.
So let's just get this out in the open. My name is Don and I love Batman. I understand that I have been primarily writing posts on this site regarding the new film The Dark Knight as of late. If anyone out there is getting sick of me writing about it, then I'm sorry but it isn't just a passing phase. If you hate me, then hate me. But if you want info, then here I am to serve as your self-appointed 41 Miles Bat-News man!
Today was a dark day for online Bat-Fans everywhere. Reports kept coming in that the third trailer would be hitting the web today to coincide with a marketing game that spanned several cities from London to Boston. Online players were in place to relay information to ground players who were actually in the cities that were hosting the game. The game itself was much like a scavenger hunt. The clues as to where the ground crew needed to go were passed on to them via the online players. This type of Bat-game has gone on once before in L.A. last summer at Comic Con to reveal the original trailer. The result of today's scavenger hunt was clearly to uncover the new trailer online… But we were all deceived!
At a certain point, the online players told the ground players the final clue. Once the ground players discovered the next location in which to travel, they were rewarded with a free screening of the new trailer in a full sized movie theater. They were given Joker cards and one person from each screening even won a raffle of the actual film strip with the trailer on it! All of this is well and good however the online players' portion of the game abruptly halted. The trail had run cold. Finally some nerd somewhere discovered a sister site to the original viral site with the clues that let you shoot ducks or some shit. If you hit the ducks in a certain order you go to another site. THE NEXT SITE WE FOUND TOLD US THAT THE TRAILER WOULDN'T BE ONLINE UNTIL SUNDAY!
Clearly this marketing strategy is not going very easy on the online fans who couldn't make it to London to search for clues at 5:30 at night. Many Bat-Fans are very upset and even though the marketing for this film thus far has been top notch, I am finding myself slipping away from it. Sometimes I wish I was just your average Joe who didn't care one way or the other if he saw The Dark Knight. I feel if that were true that the time would pass faster. However I am not one of those poor saps. I am a Bat-Fan now and forever. But oh God, somtimes I just can't stand all these waiting games…
As always, I promise to post the new trailer as soon as I can. 
So I was trying to find a website on Google for my hometown of Milltown NJ because I simply forgot the web address. By extreme accident, I searched for images from Milltown NJ by mistake. That's when it all started.
Being the person I am, I decided to look in on the other images from this square mile of happiness. I was shocked and fairly enraged to find that it took me 6 pages to click through until I found a photo of Jill Dickinson, Milltown's Champion of Women's Rights in the game of basketball.
Unacceptable.
A photo of Nelson Stryker can be found on page 4 just below a photo of Tara Snitkin.
The Lesbian Union photo of Max Fried's mom and Sally Sharp was pushed to page 27… Disgusting.
Google hates Women's basketball and Lesbians. 
Nelson Stryker and Tara Snitkin are ok. 
It is official.
The next trailer for The Dark Knight  has been shown to fans at the recent New York City Comic Con! No one knew it was coming until just moments before the unveiling at the convention. Apparently just after a small Speed Racer promotion, a representative from Warner Bros. stepped up to a podium in front of a movie screen and told viewers that "New York Comic Con has always been a special home to one of our characters." Then he mentioned something about a Bat-Signal and the crowd drowned out the rest of his speech with maniacal screaming worthy of The Joker.
Then they played the long anticipated third trailer for the sequel to Batman Begins and most likely the last before the films July 18th release. Bat-Fans probably remember nearly collapsing after seeing the second trailer in December and with any luck we'll get another jaw dropping preview this time around.
While it is still yet to be confirmed whether or not this third trailer for The Dark Knight will debut in front of the film Speed Racer or Iron Man, one thing is most likely going to happen for sure: the crazed Bat-Fans like me will see it slightly earlier through the Viral campaign that is being used to promote The Dark Knight. It would take a very long series of posts to explain the viral marketing for this movie but just imagine getting Gotham City newspapers delivered to your house with hidden messages that unlock certain websites. Then imagine worldwide manhunts for bowling bags with cellphones in them that are employed by "The Joker" to contact you with instructions. Then all these wild goose chases and the diciphering of codes generally leads to a trailer debut on one of the hidden sites.
So keeping in mind that as of right now, "Lt. Jim Gordon" of Gotham Major Crimes Unit is blackmailing me into working for him because I got caught in a "sting operation" on one of those viral sites, it is becoming clear that this new chain of viral marketing is leading to the new trailer release.
I know very little about the new trailer for The Dark Knight. That being said, I do know, or I'm choosing to only tell you, two facts from it.
1) We are going to get to see and hear the late great Heath Ledger (as The Joker) deliver dialogue that I have personally been looking forward to ever since I found out The Joker was going to be in this movie. The line is: "It's Simple, Kill The Batman!"
2) "You either die a hero, or live long enough to see yourself become the villain" is the dialogue that ends the trailer and I got chills when I found out that Aaron Eckhart speaks this line as his character Harvey Dent. If you know why this means something, then you're probably as excited as I am about that line. If you have no idea what I'm talking about then see The Dark Knight when it hits theaters July 18th. And when I see the trailer, I will post all there is to say about it right here on 41Miles.
Why So Serious?     
Peanut Butter and Jelly…
R and D…
Gary and Tucker…
…Well I wish I never stumbled upon this at all, but here it goes. We now have one more classic duo to add to the already worthy list seen above.
DC COMICS and MORTAL COMBAT!
Apparently video game designers have realized that characters such as Batman and mother fucking Sub-Zero now exist in the same world and must do battle with each other: To the death of course. Now correct me if I'm wrong, but this is probably the worst thing that could happen to DC Comics since Batman faced off against The Predator!
Am I supposed to sit still and let Batman, my favorite fictional character of all time, get his utility belt ripped off and used as some kind of noose/whip to fillet him open during some sick "finish him" move?!?! Or worse, force the caped crusader to murder people with exploding batarangs in a clearly uncharacteristic move in the history of his existence? God only knows how Green Lantern or The Flash are going to hold their own against the Johnny Cages and Raidens of this new world.
I will not tell you who is making this game, when it is coming out, or any other detail that might help someone who is interested in playing this game. I am also pissed at DC for just throwing their characters into a stupid world of button mashing.
However, if Aquaman were to be beheaded at any point during gameplay, I would have to jump on board with this game regardless of my opinions stated earlier in this post.
You might be asking yourself one of two questions right now.
1)Wait, there's a third Sandlot? I didn't know there was a second!
2)What does Luke Perry have to do with anything anymore?
Well this is Don here returning from an all too long absence from 41Miles to answer those questions and more! Yup that's Luke Perry for sure, and he's back! You might remember Mr. Perry from such classics as 1999′s The Florentine and 2000′s Attention Shoppers. Well guess what? He's back on the small screen playing Tommy "Santa" Santorelli in the instant hit The Sandlot 3: Heading Home! The plot outline found on IMDB for this film reads like an epic poem that tugs at the heart strings of America.
Successful, arrogant baseball superstar Tommy "Santa" Santorelli travels back in time to 1976 and relives his boyhood days on the sandlot baseball team, this time choosing friendship over glory, and ultimately earning both.
If that doesn't make you cry I don't know what will! Just imagine, if you will for a moment, the hardships Luke must face in this drama of life lessons and baseball metaphors. We all know how turbulent the year 1976 was and I know of only one man who could successfully pull off an acting job worthy of this plot: Luke Perry.
Grab some popcorn, get your dad into the living room, throw on some P.F. Flyers (guaranteed to make a kid run faster and jump higher), hang on tight to your autographed Dylan doll from 90210, and get ready for the sci-fi time travel thriller The Sandlot 3: Heading Home.
It's great to be back! -Love always, Don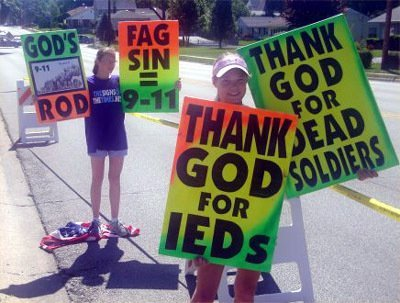 I don't know how many people have known about this, but I just found out about it today and was shocked to say the least. Apparently, the state of Kansas is home to the Westboro Baptist Church. They are a wonderful congregation consisting of lunatics and hate mongers. The church claims that America is doomed due to the fact that our free country allows homosexuality to run rampant. Since they hate gay people, they have decided that it was the fault of the gays for 9-11, the Iraq war and everything else that sucks in the country. Actually it is thier God who is to blame for all the horrors according to them. It seems that they believe that God is knocking down New York skyscrapers and killing U.S. troops because He is mad with America for being OK with Gays. The claim to fame, as it were, of this Church in Kansas is that they attend funerals for U.S. troops and protest outside with signs that range from saying "God Hates Your Tears", "AIDS Cures Fags", and "God Hates Cripple Soldiers."
I found out about these lunatics from my mother who works at our city hall. She informed me that the funeral tomorrow for a soldier/former student in our school system, was now being considered a homeland security threat. Um what? Then she told me that our police, rescue squad, and fire department would be standing by at the funeral for fear that thousands of religious zealots might come to town to protest the funeral on Main Street! I immediately imagined this protest to be much like the end of E.T. when the NASA guys march in slow motion over the hill and descend upon the town to capture little E.T. This knew knowledge of Kansas church lunatics made me read up on them some. What I found was the website GODHATESFAGS.COM. Charming. The website is very nice looking if you pretend that it isn't riddled with jpegs of little 5 year old girls holding signs that say "FAGS DIE, GOD LAUGHS." It was appalling to even look at.
So tomorrow at around noon, please pray that these protesters decide not to show in my town. Pray for the family of the soldier as well. Regardless of whether or not you believe in god or "fags", there is still a mother tonight who has to bury her son in the ground tomorrow. Also the people from Westboro Baptist Church have the makings of terrorists and Nazis, and hopefully they will all burn in Hell.
(this post wasn't posted yesterday as I had hoped because I didn't have time to finish it up. As an update I must say that this group did not come to my town and that is a very good thing. Sadly other towns will no doubt be troubled by these people.)